Orange Botswana through their CSI arm, Orange Foundation continues to make advances towards greater digital inclusion enabling greater connectivity to digital technology and lessening prevailing digital gaps in remote communities. On the 23rd of May, Orange Botswana donated a Digital School Kit to Ramonoka Primary School in the Kgatleng district.
The Digital School Kit donated will be used to help the Ramonaka Primary School learners have a more inclusive, collaborative, and enhanced learning experience. Additionally, it will equip learners with firsthand ICT competencies that are needed for the digital world. The teachers of Ramonaka Primary School will be able to create more interactive and engaging lessons that cater to different student learning styles. This can lead to better information retention and improved academic performance. Access to ICT equipment can furthermore help teachers provide a more effective and efficient learning experience for their students.
Said Orange Botswana's Director of Corporate Affairs and Chief Compliance Officer, Lepata Mafa, "At Orange Foundation we believe in the power of technology to enhance education and provide equal opportunities to all, regardless of their background and circumstances. We believe that education lies at the heart of societal progress, and it serves as a catalyst for transformation and empowerment. It is through education that we unlock the boundless potential within each individual and pave way for a brighter future. Today, we mark a new chapter in the journey of Ramonaka Primary School as the school embraces digital revolution. The Orange Digital Schools Kit which we handover today, represents a comprehensive set of tools and resources designed to bridge the digital divide and foster a dynamic learning environment."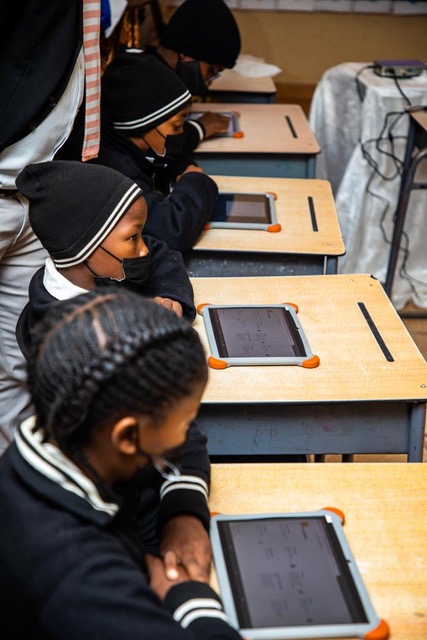 The donation of a Digital Schools Kit made to Ramonaka Primary School included 50 tablets loaded with local syllabus content, 1 Video projector, 1 HDMI cable, 1 Raspberry server, 1 Set JBL Speakers, 1 Laptop and 1 Case (contain the package)
Receiving the donation at a ceremony held at Ramonaka Primary School, said, Minister of Local Government and Rural Development and area MP Honourable, Mabuse Pule, "I wish to express my gratitude to Orange Botswana and the Orange Foundation for their kind gesture to the learners of this area and for their investment in the development of Botswana. I am confident that the ICT resources handed over today will significantly improve the Ramonaka Primary School's service provision to the community and greatly improve the learning experience of the students here. I am excited to see how support such at this from our private entities positively impacts the lives of our learners and they community."
The Orange Foundation's Digital School Programme aims to provide free digital educational content and digital technology resources to public schools throughout Botswana. The digital kit serves to strengthen the ongoing teaching curriculum and provide supplementary content such as encyclopaedias, dictionaries, literature, video-based classes, revision sheets and maps. The digital kit will enable enhanced teaching, learning for the teachers and learners of the participating schools addressing issues of digital inclusion and digital literacy.
To date Ramonaka Primary School is the 65th school and 7th primary school in the district to receive donations as part of this nationwide initiative. The Orange Foundation looks forward to developing the Digital Schools Programme even further, expanding it to secondary education and have set a target to have supported 100 public primary schools by 2024.