Botswana's US based professional golfer Ouname Mhotsha has joined the other twenty-five new recruits for the  IOC Young Leaders Olympic Committee (IOC)'s four-year programme that will support them in the creation of grassroots sport-based initiatives aimed at addressing issues in their communities. The new Young Leaders – balanced in terms of gender and diversity, and from 25 countries across five continents – were chosen from more than 360 applicants, and have demonstrated their passion for using sport as a tool for social and economic change.
Over the next four years, the IOC Young Leaders will benefit from online learning, mentorship and hands-on experience that will enable them to develop the skills and knowledge needed to become effective leaders and agents of social change through sport. Each IOC Young Leader will also receive a total of CHF 10,000 seed-funding to help them imagine, design and run their own sustainable sport-based social project.
Their sport-based projects will be intentionally designed to address at least one of the United Nations Sustainable Development Goals (UN SDGs), aligning with Olympic Agenda 2020+5, and contributing to the IOC's Olympism365 strategy focused on strengthening the role of sport as an important enabler for the UN SDGs.
Mhotsha said among the reasons for her selection were based on her responses to her panel in recruitment phase. "As the first female touring golfer from Botswana and a well seasoned leader from a underserved community who is at the beginning of her professional career, i pose as an ideal figure for the young athletes to walk with me during my journey especially that we share share challenges. I am ready to advocate for the inequalities in sport and I am a young leader who is ready to scale up and i love serving young people."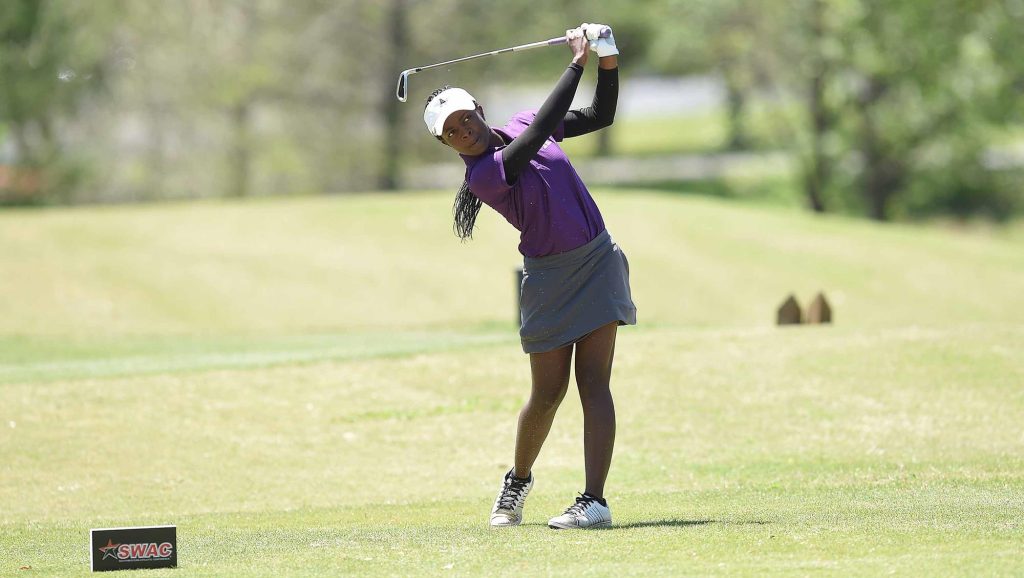 Discover the 2023-2026 IOC Young Leaders
Africa
Ouname Mhotsha (Botswana)
Sara Abdelsamie (Egypt)
Gifty Appiah (Ghana)
Joseph Owino (Kenya)
Salsabeel Husayn Hasan Tantoush (Libya)
Grace Towobola (Nigeria)
Jabulani Mtwa (South Africa)
Americas
Tomás Alfredo Seré (Argentina)
Jacqueline Simoneau OLY (Canada)
Karen Ariza Carranza (Colombia)
Vasty Jean-François (Haiti)
Sofía Arévalo Sierra (Mexico)
Asia
Daixuan Li (China)
Pragnya Mohan (India)
Ryosuke Itomi (Japan)
Yazan Al Bawwab OLY (Palestine)
Alfonso Galvez (Philippines)
Europe
Martin Johansen (Denmark)
Paul Bayet (France)
Shereif Kholeif (Great Britain)
Isaiah Kioiloglou (Greece)
Hugo Pereira (Portugal)
Berber Swart (The Netherlands)
Oceania
Grace Hull (Australia)
Peniamina Percival OLY (Samoa)
Global impact
Supported by Worldwide Olympic and Paralympic Partner Panasonic, the IOC Young Leaders programme has gained momentum over the years. Since launching in 2016, a total of 94 Young Leaders from 66 countries have positively impacted the lives of more than 30,000 people through over 140 sport-based projects.
Active role within the Olympic Movement
As ambassadors of Olympism, the Young Leaders play active roles in advising the IOC and the wider Olympic Movement on specific topics, while promoting the Games and the Olympic values worldwide. The programme allows their voices to be heard throughout the sports movement, with 18 current and past IOC Young Leaders being members of various IOC commissions.
A thorough selection process
The 25 new IOC Young Leaders were selected from more than 360 applicants from 86 countries around the world. The 13 women and 12 men selected include three Olympians, and people living with a disability. Those selected ensure the programme is more inclusive than ever, representing a diverse range of backgrounds and nationalities.
The selection process included participating in a Four-Week Learning Sprint in November last year, during which the candidates familiarised themselves with the Olympic Movement and its values, plus the UN SDGs and Olympism365, the IOC's strategy on sport and the SDGs aimed at ensuring that more people and communities benefit from sport and Olympism, every day, everywhere. This learning programme featured virtual sessions on various topics such as values-based design, and sport and social entrepreneurship. A number of current IOC Young Leaders also took part in the sessions, sharing their experience on what it means to be a Young Leader and how they implement in practice the knowledge, expertise and networking opportunities they receive through the programme.
Worldwide Olympic Partner Panasonic's continued support
The IOC Young Leaders Programme has been supported by Worldwide Olympic and Paralympic Partner Panasonic since 2017, and this will continue until the end of 2024. Panasonic, as the programme's Founding Partner, is committed to supporting the IOC Young Leaders through different initiatives, for example providing its creative and technological expertise, along with its network of influencers and ambassadors, to inspire the Young Leaders and equip them with the skills and tools they need to enhance their projects.