GABORONE – Following the official plaque unveiling of theStanbic Bank Gaborone Golf Club on the 2nd of December 2022 by the Board Chairman, Botswana National Sports Commission (BNSC), Marumo Morule, it is clear that golf has a new home in Botswana. The beloved Golf Club, now "gone blue" is not only a symbol of the Bank's unwavering support for growth and nurturing of golf as a sporting fraternity, but of preservation and celebration of treasured community sites in the heart of the city of Gaborone.
Launched as part of the inaugural Stanbic Bank Botswana Golf Day, the engagement underscored several key aspects close to the Bank's purpose and vision and was indeed reaffirmed by Stanbic Bank Botswana on the day, the significance of which was underscored by Morule.
"The Gaborone Golf Club has always been at the heart of the community, a heritage site where people come together to golf, to enjoy and to simply be together. Before this sponsorship, the Club was facing many challenges. Due to the pandemic, they had to cut down manpower, put maintenance of key areas on hold, and even scale back or suspend activities due lack of finance and resources. It pleases me greatly to see the funds invested by Stanbic Bank as part of the 3-year sponsorship agreement to support the club and I thank the bank for their immense contribution towards operations of Stanbic Bank Gaborone Golf Club albeit Covid-19 challenges. We welcome the return of the Club and community activities and the upgrade of infrastructure and equipment as a unique and innovative example of commercial and community harmonised through corporate support, benefitting sports, tourism, youth, enterprise, and community," Morule noted.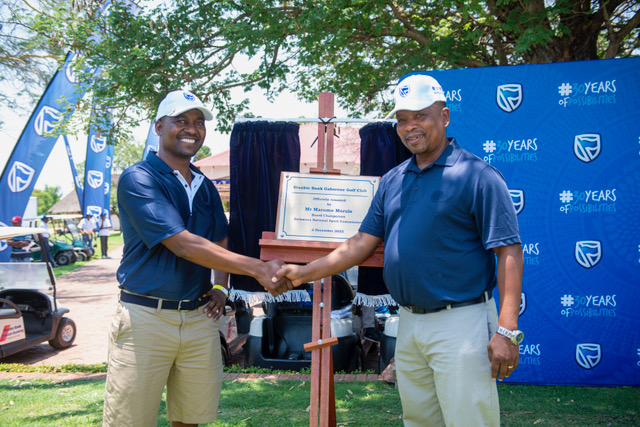 This occasion also marked and symbolised a great of many things for Stanbic Bank as a business, and indeed for the community. "It is a re-affirmation of our commitment to support the growth of golfing talent in Botswana so we continue to make our mark on the global sporting stage; it is a mark of the importance of coming together to preserve and cherish landmark sites such as a the Golf Club, so rich in heritage and history; and it is a means through which we engage with the valued clients, partners and stakeholders who have stood by us in the 30 years since we first opened our doors in Botswana. We are grateful to Mr. Morule, our colleagues at Botswana Golf Union, officials of the Stanbic Bank Gaborone Golf Club and of course our valued clients and partners who made this dream a reality and made our first official launch in this new home of golf a success," Stanbic Bank Botswana Chief Executive, Chose Modise noted.
The P4,5 million investment in the Stanbic Bank Gaborone Golf Club is made ever stronger by the P100, 000.00 in funds raised on the day from pledges and sponsorships, as well as hole purchases. This donation was made possible through the generosity of the Bank's clients in an effort to drive community impact. Building further on a year dedicated to increased community and charitable focus by the Bank, the Caddy Welfare Fund, a joint venture of the Bank and Stanbic Bank Gaborone Golf Club, has been identified as the chosen recipient for funds raised. "The Caddy Welfare Fund is designed to improve the lives of Caddies and its main objective is to improve their welfare and ensure inclusivity at all levels," Stanbic Bank Gaborone Golf Club Captain, Dr. Anthony Sibiya noted.
Stanbic Bank has a long history of support for local community assets and sporting codes. This includes but is not limited to sponsorship of such platforms as the Diacore Gaborone Marathon, the CANA Regional Swimming Championships, Nomads nationals Golf, and Township Rollers Football Club. The Stanbic Bank Gaborone Golf Club sponsorship is the Bank's largest sponsorship asset to date and aims to unlock infinitely more possibilities to benefit all in the community.