Botswana's most celebrated boxer, Keamogetse Sadie Kenosi has successfully defended her African Championship title at the recent continental showpiece, Africa Boxing Championships held in Maputo,Mozambique. The tournament that was contested by all countries across Africa saw Botswana field a total of 9 boxers (5 men and 4 women) to compete in various weight categories.
Team Botswana that was under the tutelage of coach Thebe Setlalekgosi comprised Kobamelo Molatlhegi, Mmmusi Twiige, Mohammed Rajab Otukile, George Molwantwa and Solomon Lere (Men) while Kenosi, Aratwa Kasemang , Phekie Bele and Lethabo Modukanele made the women's team.
Kenosi started her quest on a high note and eliminated all of her three opponents in the preliminaries up to the semi- finals where she eliminated Sibusisiwe Mnguni of South Africa 3-2 enroute to the finals. She went on to defend her title after a tough litmus test and won 5-0 against her close rival Marcelat Sakobi, from Democratic Republic of Congo in the finals to win a gold medal and 10,000USD (129,000.00BWP). Despite her shallow performance at the recent Commonwealth Games held in Birmingham, this is the second consecutive gold for Kenosi at continental level.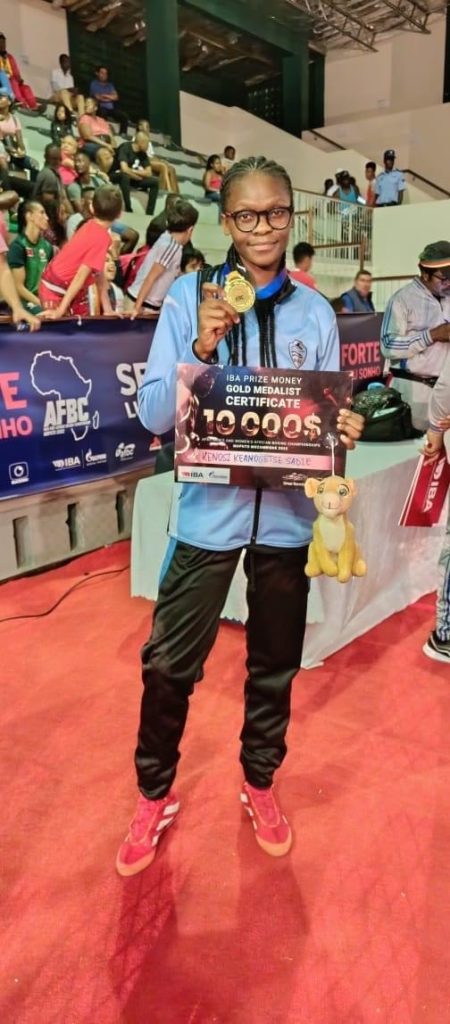 In an exclusive interview, Kenosi said he is happy with her performance looking at the fact that she was not 100% fit after she caught flu after the preliminaries at the beginning of the games. "I am very proud of myself especially my performance in a competition that was highly contested by the best boxers in the continent. It really feels good to have redeemed myself from the poor performance at the commonwealth games. This is a huge milestone for me and it is a true reflection of progress in my performance. I must admit that the competition was tough, and I am glad that I applied all the techniques that I have been learning and practicing all along," she said.
She further stated that her intentions are to rest her body before she can begin the preparations for the Paris 2024 Olympics qualifiers that I set to begin early next year. "I am the first female Motswana boxer to have qualified for the Olympics and I have made my debut and i have learnt a lot. My main aim is to qualify again so I can now compete for a medal. Consistency is key and I vow to work hard until I reach my desired shape prior to all continental and international competition. I would like to see my teammates continue with this momentum enroute to major games because I am very confident that most of us has what it takes to qualify for the Olympics as a team, all we need is the much-needed support from all sports stakeholders," Kenosi added.
Meanwhile Aratwa Kasemang and George Molwantwa also made it to the finals in their respective categories but settled for silver medals whereas Molatlhegi, Modukanele and Bele won bronze medals. Botswana returned home with a total of six medals (1 gold, 2 silver and 3 bronze).