For a spectacular Boipuso, make Cresta President your home this September. Where laughter and sweet aromas saturate the atmosphere. For a great time and great service, deviate from the norm and spend a few nights at the premium, antiquated-beauty that is Cresta. Whether you are with family or friends, Cresta is the destination for you. We unite families, celebrate Africanism, and have built a platform for families to get away from the hustle and bustle of everyday life and escape to paradise. Escape to Cresta.
This Independence Day we remember where we come from as a nation. The huts that our mothers built from soil, water and cow dung. The thatched roofs that our fathers made. Late nights around the fire and atmospheres riddled with laughter, stories and breaking bread. This Independence, we recognize that our beauty as a people and as Cresta is our legacy. A legacy that has spanned 56 years. A freedom that has been cemented for 56 years.
For a home away from home experience like no other, Cresta Hotels have been the prime destination of choice since their establishment in Botswana in 1966. 56 years ago, the legacy hotel chain built the monumental Cresta President's Hotel. The centrally located structure which is embalmed in antiquity and high-quality designs has become known as the heart of African hospitality.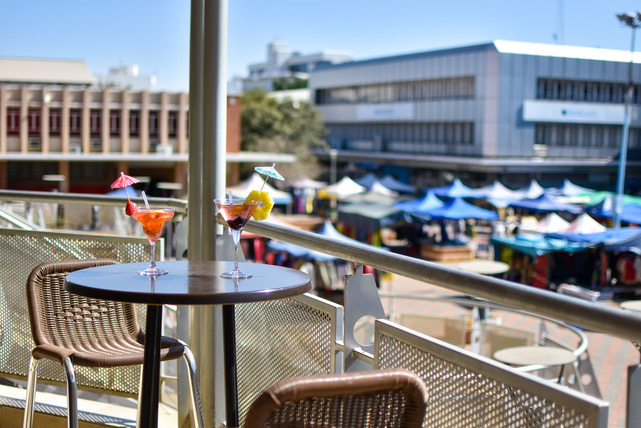 Elegance and sophistication are etched into the details and finishing of the construction and regal design. The 92-roomed hotel is only a stone throw away from the national museum and a twenty-minute drive from the Three Dikgosi monument. A national treasure amongst national treasures. As we celebrate Boipuso, we appreciate this monument which used to house Presidents, the fore fathers of our country.
The Terrace restaurant is nothing short of exquisite with its delectable cuisine and Menu options made by famous, in-house chefs. Every Wednesday and Friday you will enjoy popular Setswana cuisine dishes that will have your mouth watering and stomach growling in anticipation. As one of the refined restaurants in Gaborone, every meal is worth having. As a family-friendly establishment, this Boipuso, families can gather at Cresta for 'finger-licking' meals.
For those who wish to unwind and relax with friends after a long week, the Pula Thebe Cocktail Lounge has a chic and modern aesthetic with a live DJ to create and perform the latest music and some classics so you can sway and dance the holiday away. The extensive wine list and the inhouse mixologists will ensure your favourite drinks are always readily available. When all is said and done, the home away from home can be experienced in the air-conditioned, ensuite rooms. They feature hardwood finishes, flat screen TV with DSTv channels, internet access, front desk services and much more. The rooms include the Standard rooms, with disability access, standard twin rooms, junior suite and the presidential suite, all of which are ultra-luxurious and truly fit for royalty or at best VIPs.
In recent years, Cresta President Hotel residents had struggled with parking. Those days are long gone as 40 parking bays have been secured for the valued clientele. The parking bay has security so customers' vehicles are safe and well secured.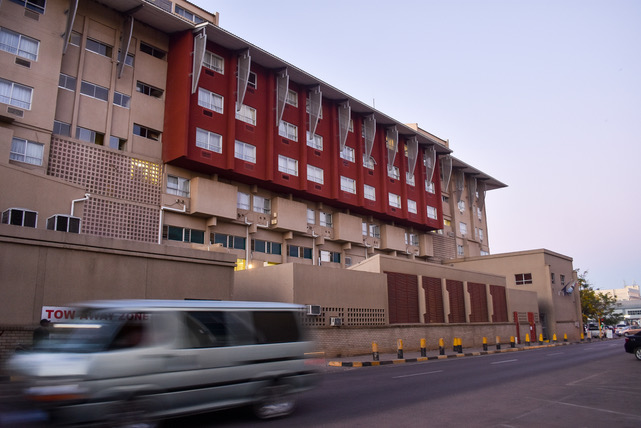 Cresta President Hotel has stood prominent as a trailblazer in the hospitality industry in Botswana. Apart from its proximity to national monuments, because of its central positioning, the president hotel is the destination of choice for corporate travellers. The hotel is close to government enclave, and business parks.
The cherry on top of the cake is the conference facilities that the hotel offers. The fully equipped, multi-purpose Brigadier, Full Brigadier, Boiketlo and President Square facilities have stationery, AV equipment, climate control, and can occupy up to 100 delegates. For all manner of workshops, symposiums and meetings, there's no better location than Cresta President.
For fitness fanatics who wish to keep fit while at our facilities, the gym is readily available for all residents. Only a walking distance from all rooms, the fully equipped, indoor gym has dumbbells, stationary bicycles, treadmills etc.
For a wholistic experience and excellence at every touch point, Cresta President is the ideal location for Boipuso and everyday holiday afterwards. Where first-rate service is a norm and your satisfaction is our heartbeat – you cannot go wrong.