In its continued efforts to empower communities, Stanbic Bank Botswana has once again sponsored the recently held Morupule CEO's Annual Charity Cycle Challenge 2023 to the value of P302,710.00, through Morupule Cycling Club.
This is yet another means through which the Bank reaffirms its dedication to supporting initiatives that improve the lives of Batswana and supporting the less privileged, whilst at once promoting healthy lifestyles through fitness activities, and championing the benefits and growth of the cycling discipline.
The CEO's Charity Cycle Challenge was held on the 7th of October 2023 in Palapye. The main purpose of the cycle challenge is to raise funds for various charitable works to provide support to some members of the community especially in Palapye and its surrounding areas.
The Bank has for the past 10 years sponsored this initiative and continues to do so in 2023. "This partnership stands for so many of the important principles central to our very culture as a business and indeed as Batswana. Our purpose beyond business of the day is to demonstrate community development and social impact. We are firm believers in building relationships and making dreams possible through collaborations such as these.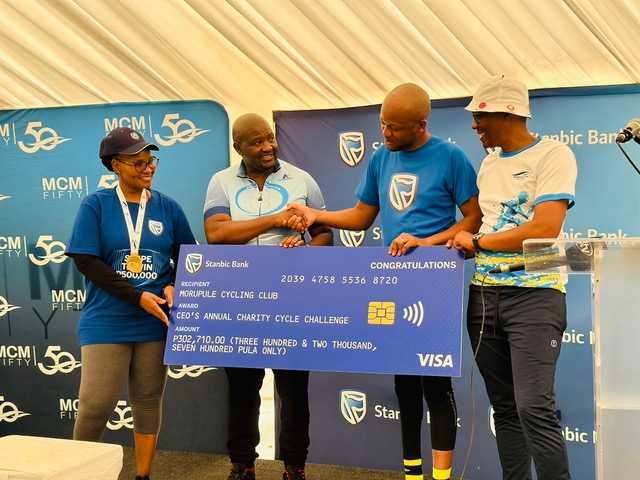 Therefore, it is our pleasure to have contributed to beneficiaries of this initiative over the years as this supports the delivery of our purpose, "Botswana is our home, we drive her growth," said Stanbic Bank Botswana Head of Clients Coverage, Mr Rebone Diloro.
The Bank continues to make notable investments in Palapye, which includes the branch aimed at providing banking services to the Palapye community and neighbouring areas, as well as the sponsorship of BUIST Graduation to promote academic excellence among young individuals.
The bank also supports sports through sponsorship of the Township Rollers Football Club and Stanbic Bank Gaborone Golf Club, all in pursuit of Making Dreams Possible. Said Morupule Coal Mine Chief Executive Officer, Edwin Elias, this is one of the programmes we've implemented to promote healthy living in the communities where we work. As a result, the Morupule CEO's Annual Charity Cycle Challenge has been running for 13 years.
We've been able to engage in community walks and cycles, as well as live better and more active lives, thanks to it. We are happy with these types of partnerships and we thank Stanbic Bank for their sponsorship as main sponsors as we believe collectively we will uplift our communities lives." Stanbic Bank will continue to support and collaborate where possible for the betterment of our society.