The capital, Gaborone will be treated to an exhibitional art on display this November featuring a fine artist Boemo Lunga. Themed "humanity", it is a solo exhibition where the artist culminate his life experiences and connection with people. Therefore through the artworks he will encompass everything that touches on being human, both in feeling and in physicality.
Expected themes to surface are togetherness, brotherhood, peace, kindness, revolution, re-birth and love.
The Exhibition will take place at Molapo Crossing ArtCase Gallery from the 5th of November 2022 to the 19th of November 2022. The exhibition will happen in 2 phases, the launch night which we will strictly be by invite on the 5th of October and the exhibition will be open for public the on 6th October.
The exhibition is expected to display 30 paintings created from different medium.Curated by Neelo Lentebanye of Neelo Management & Consultancy, a creative hub that specialises in creative development and arts management. She has shared her excitement prior to the exhibition.
"Our star artist Boemo (Lunga) has started his pieces, we can't wait for this exhibition to stage. This will become one of our landmark showcases. We have so much talent that we have to display and make a living with. I therefore encourage other artists to buy tickets to come and learn the business side, exchange ideas and network".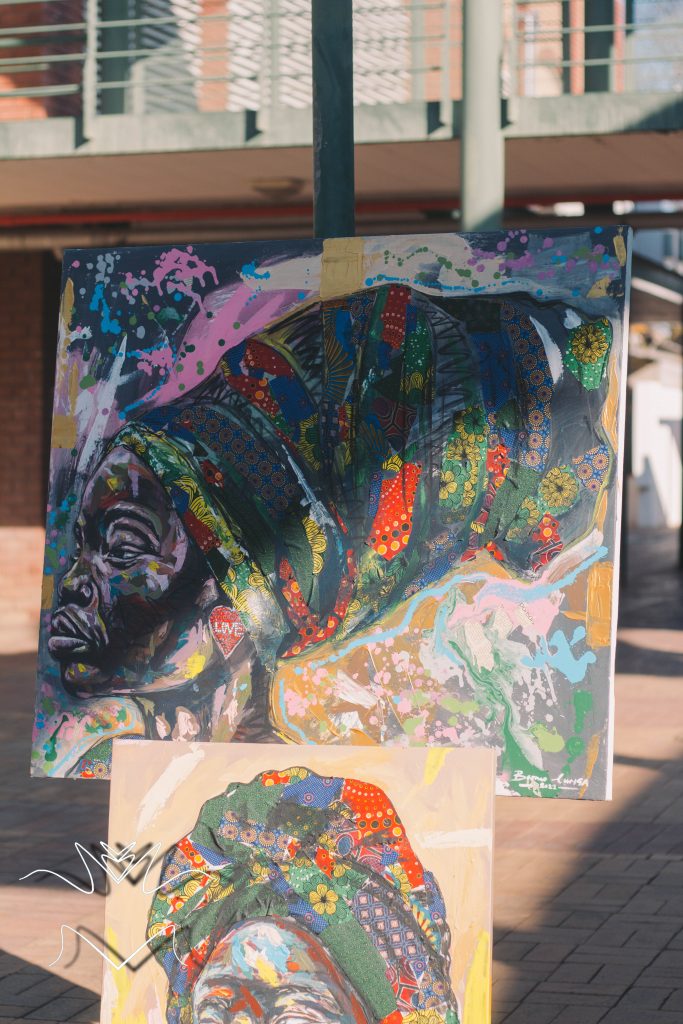 ABOUT THE ARTIST
Born and Raised in Mmadinare in the Central District of Botswana, Boemo Lunga is an experimental artist, based in Oodi. He uses charcoal, oil paintings, newspaper's, fabric and coffee to interrogate ordinary everyday life of the society he lives in. His attention to detail and powerful abstract representation, charge emotions and inspire hope.
In 2016, he discovered his talent in Mmadinare Senior School after being challenged to produce a portrait of himself, in order to be accepted into an Art class. He then started excelling more at Art compared to other subjects at school, so he decided to pursue it full time. He made his first group exhibition which was also his first ever exhibit with Ronald Kegomoditswe in 2018. Since then he has participated in numerous exhibitions locally including Francistown Arts Meet in 2019 and Thapong Members Exhibition in 2020. He then went on to showcase two of his first solo exhibition themed 'Shimi' and 'Kopano' at the Duck in Maun in 2021 and 2022 consecutively.
He has sold his works to both government and private entities locally some being the then Ministry of Youth Empowerment, Sport & Culture Development, Customary Court of Appeal and Ministry of Health. Some of his art works are currently on display at Ninety 3rd Studio in Setlhoa Village in Gaborone.
To attend the second day of the exhibition, a ticket fee of P100 will be charged per person .