"We make a living by what we get. We make a life by what we give"- a quote derived from Winston Churchill. This past weekend, Tshepang Charity foundation lived up to these sayings as they gifted food hampers and blankets to the less privileged families in Francistown.
Tshepang Segokgo, the founder of Tshepang Charity Foundation says they identified seven families who were in need of a helping hand. The donations were part of the charity organisations' branch launch in Botswana's second city.
"We as Tshepang Charity Foundation donated groceries and blankets to these families to offer relief to some of their needs. These essentials might seem ordinary to some but are lifelines to those who struggle every day," Segokgo says.
"This act of giving is not just a gesture; it is an embodiment of compassion and love for our fellow human beings. Giving and improving the lives of Batswana is what our foundation is all about. Over the past years, the foundation has been reaching and impacting lives of the less fortunate in different communities and it is now time to offer our services to the people of Francistown," she proclaims. As a believer and follower of Christ, Segokgo believes giving to those in need is her Christian obligation. She says Christian have to give back, not because one can afford too, but as an act of love.
In the bible at Matthew 25:40, it reminds us that 'our actions towards the less privileged are a direct reflection of our character and our commitment to serving a higher purpose and this is what the foundation lives for and stands for.' "Food and warmth are not mere commodities; they are essential elements of human existence. Food nourishes both body and soul, while warmth provides comfort and security.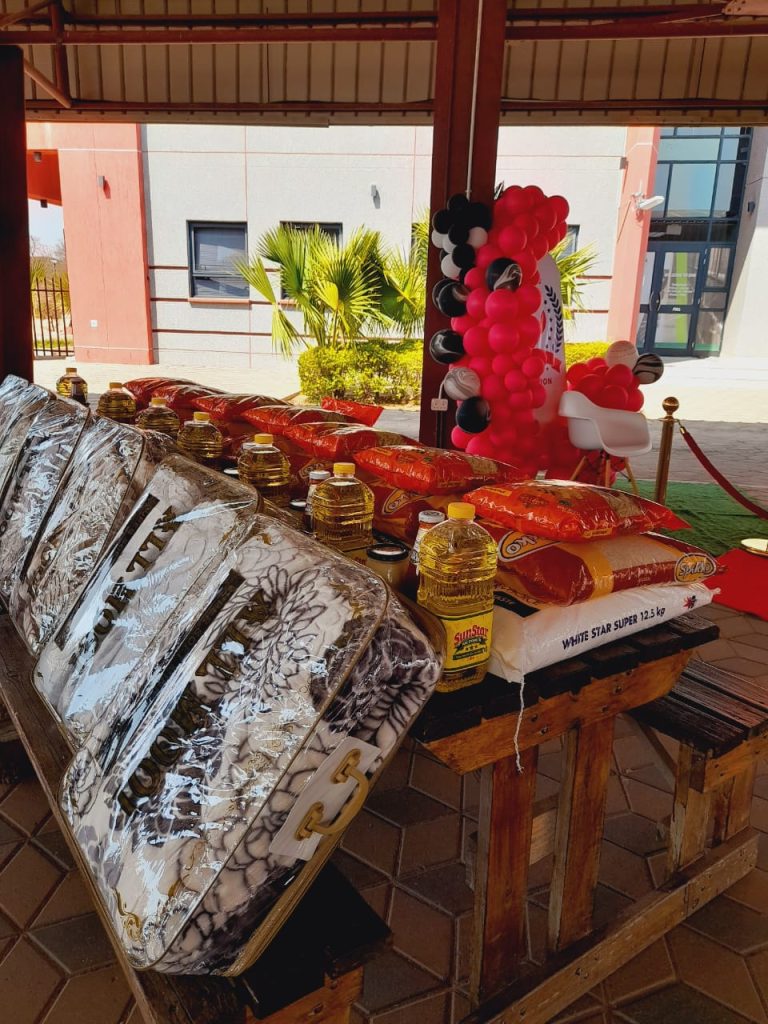 As we extend our hands in generosity, let us remember Proverbs 19:17, "Whoever is kind to the poor ends to the lord, and he will reward them for what they have done." our gifts today are a testament to our understanding of this profound truth," says Segokgo. "The more we give, the more we build healthier and safer communities. What we give may bless others, but it also blesses each and every hand that gives.
Anne Franck said this profound statement, "No one has ever become poor by giving, which shows us that giving does not take away from us but brings more by changing lives of those around us," she adds. In conclusion (you can't conclude and continue quoting an individual) Segokgo gave honour to their generous sponsor, Sweet Sprinkles. Who have joined hands with the foundation in this noble endeavour and made it possible to give back to these seven residents of Francistown.
"Let us remember that it is not just about the groceries and blankets we are donating. It is about the hope we are bringing, the love we are sharing and the lives we are touching. Together, we can create a world where kindness, compassion and generosity prevail," adds Segokgo.
Handing over the food hampers and blankets to the beneficiaries, Francistown South member of Parliament Honourable Wynter Mmlotsi applauded Tshepang Charity Foundation for extending a helping hand to the less privileged people of his constituency. "I urge other foundations to come closer to Francistown and offer aid as well because we cannot meet everyone's need at the same time.
Hopefully through this kind gesture in future another foundation will rise up to say they are donating a house to a needy family. I take this moment as well to declare a blessing upon Tshepang Charity foundation that they may continue to offer more service to Batswana not just in Francistown but across the country and continue to put smiles on people's faces," Mmolotsi implored. One of the beneficiaries (Name withheld) says she is grateful for the aid.
She says it will go a long way towards helping her and her family. "I have not been living an easy live and this food hamper will surely go a long way and I am grateful that the hand of God located me because I did not know this people. Thank you so much Tshepang Charity Foundation. This will go a long way," she says.