Bank Gaborone has reaffirmed its enduring partnership with the Diabetes Association of Botswana in the fight against diabetes, during the World Diabetes Day Commemoration.
Recent statistics indicate that the prevalence of Diabetes in Botswana stood at 5.8%, and 30.6% of Batswana are obese or overweight. According to the International Diabetes Federation, the average prevalence of Diabetes for the continent stands at 3.2%. Recognizing the urgency of the situation, Bank Gaborone and the Diabetes Association of Botswana pooled together their efforts into raising awareness, encouraging regular screenings, and promoting healthy lifestyles.
Under the initiative called the Diabetes Apple Project, Bank Gaborone and the Diabetes Association of Botswana forged a bond rooted in a shared commitment to raise awareness about the disease. The Apple project, aptly named to emphasize the pivotal role of healthy eating in controlling and preventing non-communicable diseases, particularly diabetes, has become a beacon of hope for many Batswana.
Through this initiative, the organisations emphasized not just individual health but also the importance of communities coming together to combat this global health crisis. Through the Diabetes Apple Project, Bank Gaborone has contributed significantly, in raising over P600 000.00 from 2014 to date. These funds have enabled the provision of diabetes screenings for more than 600 individuals in our community.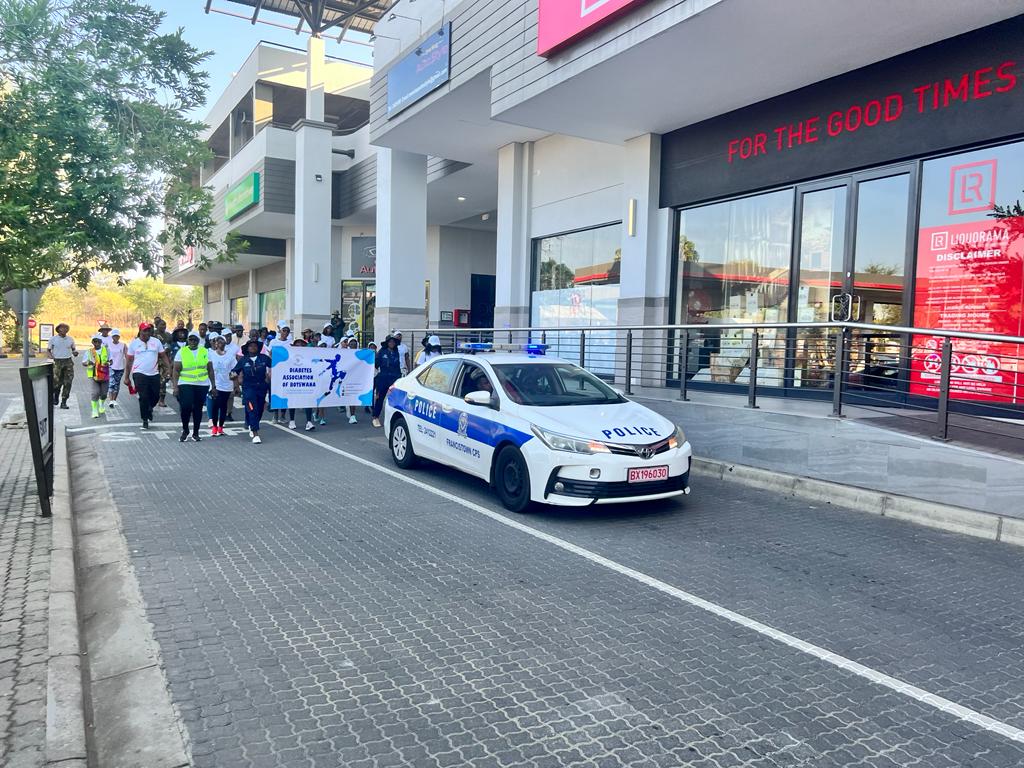 This collaborative effort between Bank Gaborone and the Diabetes Association of Botswana has saved lives and sparked a movement of positive change across the nation.
Speaking at the World Diabetes Day commemoration event, the Mayor of Francistown, Mr Duncan Godisang Radisigo indicated that the Ministry of Health and Wellness has taken a number of measures, to educate members of the public on the importance of healthy living. This also includes, setting up Diabetes Centres of Excellence at Block 6 Clinic in Gaborone, and Donga Clinic in Francistown to exclusively manage children and adults Diabetes. Also speaking st the event, the Head of Marketing and Corporate Communication Services at Bank Gaborone, Duduetsang Chappelle-Molloy also emphasized,
"Our partnership with the Diabetes Association of Botswana is not merely financial; it is a testament to our shared belief in the power of community, education, and proactive healthcare. Together, we stand united against diabetes, empowering individuals and communities to lead healthier lives."
The global theme for this year, "Empowering Global Health," resonates deeply with our mission to connect positive change in Botswana. During the month of Diabetes, our partnership with Bank Gaborone renews its commitment to fostering a healthier, happier Botswana. It is therefore our desire to urge everyone to join in this endeavor to educate, spread awareness, encourage screenings, and embrace a healthy lifestyle stated Diabetes Association of Botswana Chairperson, Dr. Gontle Moleele.